We acknowledge the Dharug and Gundungurra people as the traditional custodians
of this land on which we play and learn.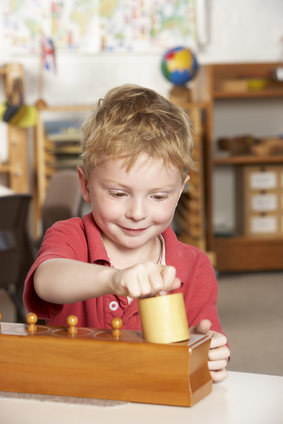 Help me to do it myself and Education for Life are the basic foundations of the Montessori classroom.

The classroom should be a vibrant and exciting place. One where the joy and passion of children who have a variety of skills and knowledge can interact and strengthen each other, and where experimentation of concepts, ideas and relationships can be explored in a community where they feel safe and respected. Experience has shown children aim to be the best they can when their ideas and thoughts are acknowledged and they have some control over processes and procedures that affect them.
Involving the children in all projects of the school, results not only in their taking ownership of the activity but also stimulates their interest in the projects objectives and desire to care for it in the future.

Classroom activities are based on learning one new skill or concept at a time, with many concepts developed through concrete materials.

Education is based on consequential action. We do not give rewards or punishments for actions. We enjoy each child's achievements and acknowledge them by utilising their skills to help others.
The measuring stick for improvement is not other people but their own previous work. Behaviour is managed by encouraging respect for others and respecting them in return and assisting children to develop social and physical skills in a positive way, providing them with appropriate words, modelling interactions and discussing situations, as well as allowing for children's emotional state.
When all these things come together, we have the privilege of watching children with not only a sense of care and community for their colleagues at preschool but who recognise their participation in a more global community and as a carers and guardians of the earth.
Who was Maria Montessori?
Maria Montessori, born in Rome in 1870 was the first female medical graduate of the University of Rome. In her medical practice her clinical observations led her to analize how children learn, how they build themselves from what they find in their immediate environment.
In 1906 she accepted a challenge to work with a group of 60 children of working parents in Rome. It was there that she founded the first Casa dei Bambini or 'Children's House'. What ultimately became the Montessori method of education was developed there. Based on Montessori's scientific observations of these children's almost effortless ability to absorb knowledge from their surroundings, as well as their tireless interest in manipulating materials.
Every piece of equipment, every exercise, every method Montessori developed was based on what she observed children do naturally by themselves, unassisted by adults.
Children teach themselves. This simple but profound truth inspired Montessori's lifelong pursuit of educational reform, methodology, psychology, teaching and teacher training - all based on her decision to furthering the self creating process of the child.
Maria Montessori died in Holland in 1952, but her work continues throughout the world.
7-9 St Georges Crescent, Faulconbridge, New South Wales | 02 47515991